WaxmansCarpet.com Shop Online TOLL FREE 800-334-8397 Free Shipping Tax-Free Outside Ohio
COTTON LOOP COLLECTION page 1 page 2 page 3 page 4
HAND LOOP COTTON PILE OR POLYSYNTHETIC PILE
baby rugs girls room rugs flowers boys room rugs shaggy raggy
WaxmansRugs.com Home Page 10% to 15% OFF Sale > get code>


click on images below for a larger view
[click on your browser's back button to return to this page]

sizes are approximate

Rug Care & Maintenance: rug should be vacuumed regularly when necessary, professionally cleaned, and rotated annually. In the event of spills, blot the affected area (do not rub) with a soft absorbent cloth. To remove dirt spots, use an appropriate dry powder rug cleaner.
Colorburst Rug
(available sizes: 19" x 29", 39" x 58")

Lovely Peace Rug
(available sizes: 19" x 29", 39" x 58")
COTTON LOOP COLLECTION page 1 page 2 page 3 page 4

baby rugs girls room rugs flowers boys room rugs shaggy raggy
(Free Shipping - Regular FedEx ground shipping is included on rugs and items on our website)
See Shipping, Ordering, & Return Policy
To view your cart or to order its contents: GO TO CART
We collect state sales tax when shipping to the following state: Ohio

Carpet . Area Rugs . Binding & Rug Carving . Monthly Specials
Stocked Area Rugs . Area Rug Coupons . Home
Shipping, Ordering, & Return Policy . Order Form . Contact Us
For phone orders or questions call: (440) 734-7060
Toll Free Phone Number: 1-800-334-8397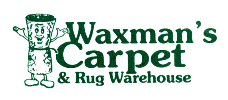 © 2018 Waxman's Carpet & Rug Warehouse