Use code 112181001 at checkout to save 15% off rugs and items online!
hand crafted, 100% wool pile
68000


.

.

.

.

hand crafted, 100% wool pile
68001


.

.

.

.

.

.

hand crafted, 100% wool pile
68002


.

.
sizes are approximate

Rug Care & Maintenance: rug should be vacuumed regularly when necessary, professionally cleaned, and rotated annually. In the event of spills, blot the affected area (do not rub) with a soft absorbent cloth. To remove dirt spots, use an appropriate dry powder rug cleaner.
Allure, Amelia, Ariana, Bauhaus, Bentley, Caspian, Cosmo Shag, Eden, Emerson, Empire, Fusion, Generations, Genesis, Genre, Hudson, Huntley, Infinity, Kharma, Kharma II, Knightsbridge, Lanai, Leighton Shag, Loft, Lotus, Milano, Montego, Nadira, Nexus, Odyssey, Palermo, Revival, Salerno, Silhouette, Spectrum, Stella, Tones, Utopia, Ventura, Windsor, Zanzibar
Free Shipping
Regular FedEx ground shipping is included on rugs and items on our website.
To view your cart or to order its contents: GO TO CART
We collect state sales tax when shipping to the following state: Ohio
Order with Confidence
Trusted Area Rug and Carpet source since 1974

Secure (SSL) Online Shopping

Large selection available

Better Business Bureau A+ Rating
If you have seen a particular rug you like somewhere else,
send us a Email with the details and we we will try to help.
(Details such as: manufacturer, style, color, rug number, size, and price)

[Carpet] [Area Rugs] [Binding & Rug Carving] [Monthly Specials]
[Stocked Area Rugs] [Area Rug Coupons] [Store Location] [Contact Us]
[www.waxmansrugs.com] [www.waxmansrugs.com/kidsrugs]



Shop Online (secure server credit card information)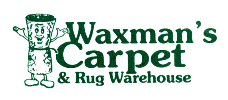 Since 1974

For phone orders or questions call: (440) 734-7060
Toll Free Phone Number: 1-800-334-8397
E-mail: waxmansrugs@gmail.com
© 2018 Waxman's Carpet & Rug Warehouse